2BR News
01254 350360
2BRfm
@2br
news@2br.co.uk
Article
Injury woes at Stanley
7:35am 17th October 2014
Stanley manager John Coleman doesn't expect to have any of his injured players back for this weekend's trip to Stevenage – and may be forced into the market to add to his squad.
Goalkeeper Aaron Chapman was taken off in last weekend's defeat to Dagenham & Redbridge and the Chesterfield loanee looks unlikely to be back in the near future.
Accrington Stanley Plymouth Argyle"It's not looking too good," explained Coleman. "He had an X-ray and I think there was too much swelling to see the actual extent of the damage. He's going to a see a specialist. As it stands now I think we have to accept that we're going to lose him for quite some time.
"It's a massive blow for the lad who is a great character and has had a great start to his career here. We'll just hope he can get fit and get back to playing as soon as possible.
"We've always seemed to have back luck with goalkeepers for some reason. On the plus side, whenever we've got a good one in we've generally done well. Here's hoping!
"You can moan about it or go and do something about it. I prefer to do the latter. We'll have to look at our options with regards to bringing another keeper in."
Despite disappointing news on the goalkeeping front there are more encouraging developments in other departments.
Full backs Michael Liddle and Adam Buxton have been longer term absentees but are nearing a return from knee and hip problems respectively.
"I think they're seeing more of physio Paul Morgan than his wife is at the moment!" said Coleman. "They're both coming on well. I think Michael should be back in training next week and Adam could be back the following week."
Share This Story
Tweet
Suggested articles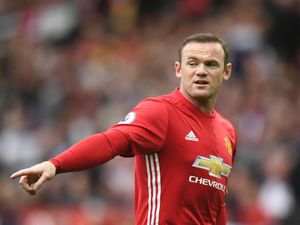 Rooney to miss Chelsea clash through injury
Wayne Rooney will miss Manchester United's clash with Chelsea on Sunday with a muscular injury, Sky sources understand.
Accrington Stanley fail to take chances in draw with Crawley Town
The Reds drew 0-0 in the away match
Most read
Confident PNE take on Norwich
The Lilywhites look to stretch unbeaten run at Carrow Road
VIDEO Accy Stanley Milk ad back with a twist
27 years on and the young lad who starred in the original is having a very different drink...