2BR News
01254 350360
2BRfm
@2br
news@2br.co.uk
Article
Beckham topless and wet
8:47am 20th August 2014
(Updated 8:49am 20th August 2014)
Topless and drenched in water.
David Beckham's joined the latest internet craze the ice bucket challenge.
It see's people pour cold water over themselves, donate to charity and nominate someone elses.
See it here:
Share This Story
Tweet
Suggested articles
David Bowie nominated for two posthumous Brit Awards
David Bowie has been nominated for best British male solo artist and best British album at the 2017 Brit Awards - a year after his death.
Loving director Jeff Nichols 'desperate for equality'
The director of new film Loving, about an interracial couple, has told Sky News we are "in desperate need of a clearer definition of equality".
Most read
The Burnley striker and the Little Mixer
The Burnley footballer and the girl band member.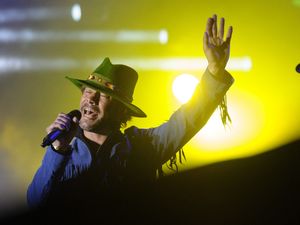 Jamiroquai tease comeback with sample of first album in seven years
Jamiroquai have announced their comeback "to a planet near you", teasing fans with the release of their first new music in seven years.